Many iPad users face a common no sound on iPad issue. It is a very disturbing issue as the user's experience with the iPad gets spoiled when there is no sound on iPad. But you need not to worry as this issue is fixable.
We have a list of 4 Working methods that will help you fix sound problem on your iPad and iPad Mini.
How to fix no sound on iPad?
The following are a number of methods which have actually helped many iPad users to fix their sound problems. You can try any one of them; just manage your way down the list till you get the one which works for you.
Check the iPad sound settings
Reset the network settings
Force restart the iPad
Clean the iPad charging port and headphone jack
Method 1: Check the iPad sound settings
The iPad may not have any sound if it has been accidentally muted. There might be a case when the iPad has been connected to external speakers and thus it can't play sound on its own. So the iPad sound settings must be checked. Do so:
If your iPad has a mute button, make sure it is off.
Press the volume up button to adjust the volume. Make sure the volume is high enough so that you can hear the sound.
On your iPad, tap Settings and then check Bluetooth. If it is ON then turn off the Bluetooth.

Check and see if this method restores the sound on the iPad. If it does, congratulations! But if it doesn't, here are a few more methods for you to analyze.
Method 2: Reset the network settings
Resetting the network settings might also help in restoring the iPad sound. To reset the iPad network settings, do so:
Tap on Settings, then go to General and then click on Reset.

 2.  Click on Reset Network Settings.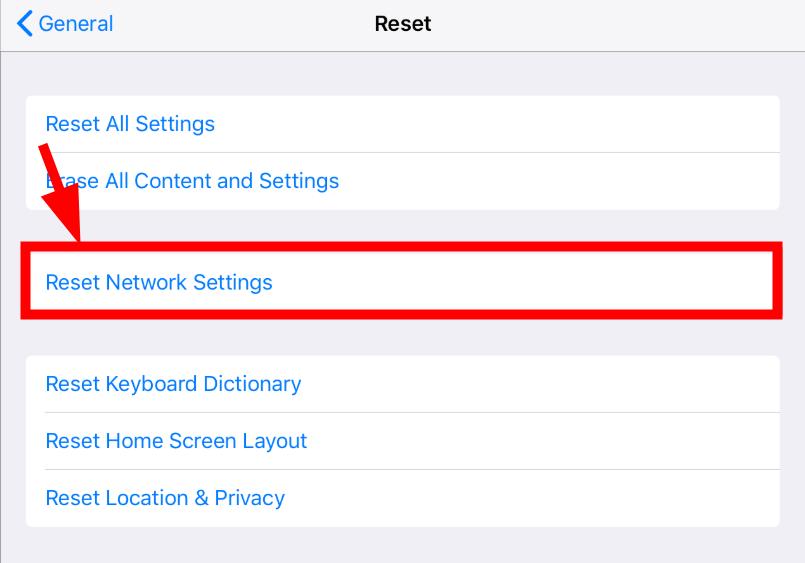 After resetting the iPad network settings, know if this resolves your sound issue. But if it doesn't, there are other more methods to try.
Method 3: Force restart the iPad
There might be temporary exploitation issues with the iPad and thus it is unable to produce any sound. Force restarting the iPad might help you to get rid of such sound issues.
To force restart the iPad, press and hold the top button and the Home button till the Apple logo is shown on the screen.
Then release the buttons and wait till the restart ends. If you hear the sound on the iPad now, you have resolved the problem. But if not, there is still one method to try.
Method 4: Clean the iPad charging port and headphone jack
The iPad is unable to play sound maybe because its charging port or headphone jack is nasty. You must clean your iPad charging port including the headphone jack. You can use a toothbrush or vacuum cleaner to clean the jack and port. After you clean the port and jack, check to see if this resolves the sound issue in iPad. Hopefully, it will.
Method 5: Reset Layouts
This method worked for many users as per the Apple Discussion forum.
1. First of all, Sign out of the game centre.
2. Turn off the keyboard clicks/lock sounds ( settings )
3. Reset home screen layout
4. Delete keyboard shortcuts
5. Change language to another and back to English again.
This has no proper explanation but it is suggested that this happens due to a software bug and the above solution manages to fix it.
Method 6: Turn off Mono Audio and Turn it On Again
Here are the steps to do so;
Go to Settings and tap on General
Find Accessibility and Find Hearing Option.
You can see Mono Audio in it. Turn it off and switch it On again.
This can fix the problem.
Method 7: Update iOS
Updating iOS may also fix such issues.
So if you have pending updates then make sure to complete it. You can find update settings in General Settings of your iPad.
Method 8: See if iPad is Stuck on Headphones Mode
One major reason behind no Sound issue on iPad is that it gets stuck on headphone mode even after you remove your headphones. To overcome this you can do a few things.
Try Restarting the iPad
Connect the Headphone and check if the sound is coming on Headphones or not. Disconnect after checking.
Connect some other headphone (wired or wireless) and see if that works. Disconnect them and check again.
Method 8: Hard Reset iPad
If your iPad sound still doesn't work, then the last option is to do a Hard Reset. This will lose all your data and bring your iPad back to its default factory state. If your speakers are fine with no hardware issue it shall start working.
If the sound still doesn't work then it might be a hardware fault which you can get fixed only from an official Apple Service Center.
Final Verdict
If you have tried all these methods, and you still don't get your iPad sound, it is probably a hardware problem. You can contact Apple Support for advice.